While there seems to be something every day with members of the Teach Better Team hosting FREE LIVE Professional Development discussions, here are a few ones to keep an eye out for!
---
---
1st Gen Teacher Lens Podcast
Ask The Tech Coach Podcast
Beginning Teacher Wednesdays Podcast
Define YOUniversity Podcast
Designed To Thrive Podcast
Good News Brad News Podcast
Guiding Principals Podcast
Out of the Trenches Podcast
Principal Leadership Lab Podcast
Punk Rock Classrooms Podcast
Rethinking Learning Podcast
See What Had Happened Podcast
Speaking Educationally podcast
Teach Better Talk Podcast
Teachers Deserve It Podcast
The Counter Narrative Podcast
The Reading Teacher's Playbook Podcast
Xhausted Educators Podcast
---
LISTEN MORE

We imagine a world where every educator is connected, supported, and inspired to be BETTER every day; so that all learners can discover and develop their passions to positively impact our communities.
We are currently working with thousands of teachers, across more than 150 districts, spanning 30+ states, and reaching hundreds of thousands of students who have previously been considered "unreachable."
Imagine what we could do with your help!
GET ALL OUR COURSES FOR $9/MONTH
INSTANT ACCESS TO ALL ONLINE COURSES - CURRENT AND FUTURE
INCLUDES THE GRID METHOD AND TEACH FURTHER COURSES
ACCESS FROM ANY DEVICE
NEW COURSE ADDED REGULARLY
BULK LICENSES AVAILABLE FOR YOU TEAM, SCHOOL, OR DISTRICT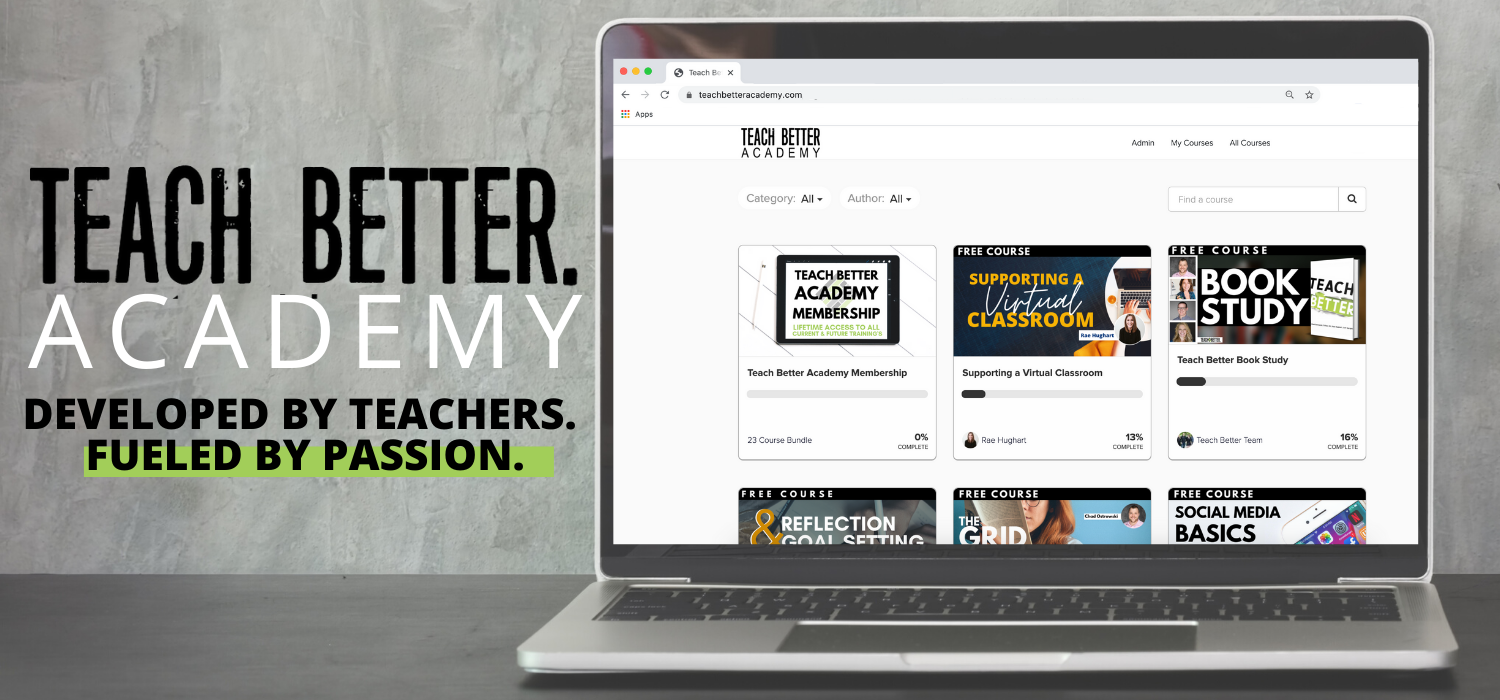 GET ALL OUR COURSES FOR $9/MONTH
INSTANT ACCESS TO ALL ONLINE COURSES - CURRENT AND FUTURE
INCLUDES THE GRID METHOD AND TEACH FURTHER COURSES
ACCESS FROM ANY DEVICE
NEW COURSE ADDED REGULARLY
BULK LICENSES AVAILABLE FOR YOU TEAM, SCHOOL, OR DISTRICT