SPEAKER BIO   |   CONTENT    |   PD TOPICS   |    GENERAL PRESENTATION OFFERINGS

Tiffany Ott is a high school math teacher in Ohio, the founder of #MasteryChat, and an educational technology fanatic. She just can't get enough of teaching and learning! In 2019, Tiffany became a published author by co-authoring the book "Teach Better."
Whether it's connecting with a teacher struggling to make mastery learning work, writing about education, designing units, or speaking up on a stage to teachers who want to change the world with awesome teaching, she is hooked on all things education.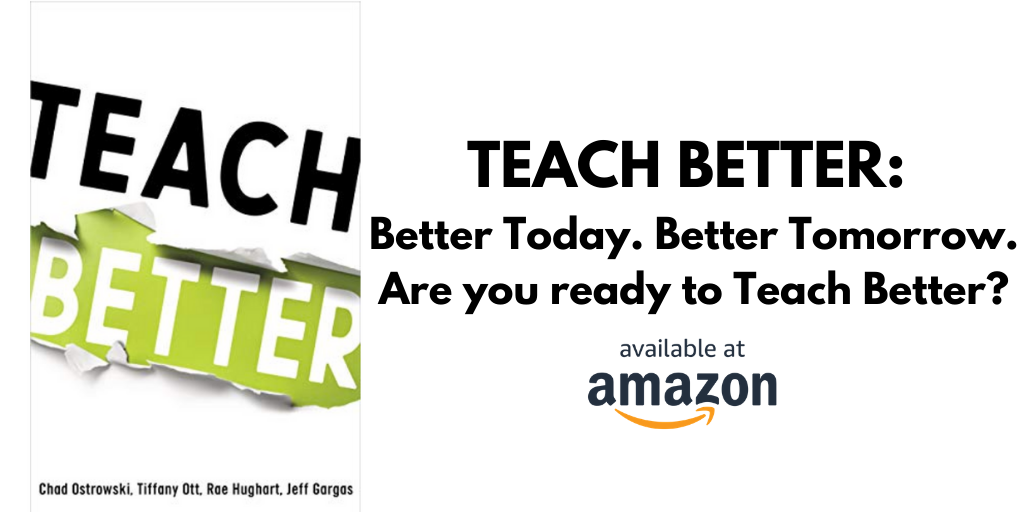 Better is more than a word. Its a Mindset.

EDUCATIONAL TECHNOLOGY

GIFTED EDUCATION

STAFF INSPIRATION
THE POWER OF MASTERY LEARNING

THE TEACH BETTER MINDSET
Keynotes, Workshops, & Sessions: 
Teach Better
Ready for a wake-up call delivered with love? Tiffany's nickname on the Teach Better Team is Mama Tiff because she is, undeniably, the Mama of the team. Get ready for a dose of motherly love when you see Mama Tiff in action. Yes, she will tell you in no uncertain terms that you are doing some things wrong in your teaching practice. Yes, she will hold up the mirror to your flaws and make you face them. Yes, she will do it all with the blend of "You better get yourself in the right direction," and "I got your back, sweety- we can do this together," that great Mama's are known for.
Participants will:
Discover what the Teach Better mindset it all about

Take a hard look at what needs to be better in their own career

Recognize that the path to Better is slow, continuous…. And awesome!
The Blame Game
Yes, there are a million reasons why teaching is an impossibly difficult, exhausting, burn-out causing career. But it's time to stop playing the Blame Game and time to start taking action. Tiffany lays out the five main challenges educators love to blame (Monopoly, anyone?) and explores the options we have for changing ourselves and our perspective. When you play the blame game, nobody wins. Let's shift our perspective and start making lasting change!
Participants will:
Identify the blame game scapegoats that get in the way of progress

Learn how to stop blame in its tracks and pivot in a more positive direction

Make a plan for dealing with the blame game happening all around them
Reaching All Students Means Reaching ALL Students
(Even The Ones Who Already Know The Content)
It is not easy to meet the needs of every student in your classroom. This if fact. All too often, the students that already understand the content and don't really need the lesson are left bored, frustrated, and underserved. The answer? Mastery learning! But it only works if you have the right structures and systems in place – so let's put the tools in teachers' tool belts and create some awesome learning experiences for ALL our students!
Participants will::
Understand the epidemic of underserved advanced students – and the problems that occur because of it

Understand the unique needs of advanced students

Explore the structures and systems that can make mastery learning work
Making Mastery Manageable with Effective Technology Integration
Personalized learning is a major buzzword in education right now, but figuring out how to actually make it work in your classroom is tricky. How do you design units of instruction? How do you monitor progress and provide effective feedback? How do you stay organized enough to not go crazy? Good news! The tech tools we have access to in modern education can help make it actually work. Let's learn how together.
Participants will:
Discover how today's technology makes personalized learning possible

Learn technology tools and resources that enhance learning for students

How to transform the way your students think about their learning
Bite-Size Mastery: Nibbling Your Way Through Mastery Learning
If you aren't ready to gorge yourself on full-blown mastery-learning but still want some of the benefits, Bite-Size Mastery may be the appetizer you need! Learn the recipe and cook up some mini mastery-learning experiences. Return to your classrooms with a buffet of ideas to try right away!
Participants will learn:
The foundations of mastery learning – And why it doesn't have to be scary!

The common pitfalls of mastery learning

How to break down and align your standards

How to design high quality, engaging, and effective initial instruction

Timing instruction, assessment, and learning opportunities for maximum effectiveness.

Planning for and organizing the learning process in a bite-sized mastery lesson.

60-90 min Session: $1,500
Keynote (all day):$5,000