14 year veteran teacher, and host of the EdPop Podcast, Seamus O'Hara, chats with us about his unique podcast format, why he believes we get stuck in being afraid to change, and the power of appreciation.
Seamus talks about never being satisfied, not being afraid to fail, and how we can be better.
Episode Highlights
0:32 – Shoutout to Katie on Instagram – @K_Miglin – Get your shoutout by submitting a word to Rae to describe Jeff!
2:33 – If you missed the livestream with Adam Welcome, head over to www.facebook.com/teachbetterteam.
2:43 – Chatting about pace in the classroom.
6:32 – Previewing today's episode with Seamus O'Hara.
8:59 – Seamus introduces himself.
9:36 – Seamus's failure.
12:42 – Why do some people get stuck in a mindset of "It's good enough, why change?"
15:06 – Seamus tells us a bit about his podcast, EdPop.
21:19 – What's got Seamus excited about education right now.
24:40 – Seamus's awesome X-Men reference.
25:46 – Seamus's advice for young teachers.
28:16 – 6 questions answered in 15 seconds or less.
31:45 – How to connect with Seamus.
Seamus's Recommendations
EdTech Tool:

Quizlet

Who to Follow: TeachBetter–no hero worship
YouTube/Podcast/Website/Blog:

The Amoeba sisters

Daily/Weekly/Monthly Routine:

Tell people that you appreciate them, and be specific as to why.

Best piece of advice you've ever received:

Don't force plastic. 
Links to Connect With Seamus
MORE EPISODES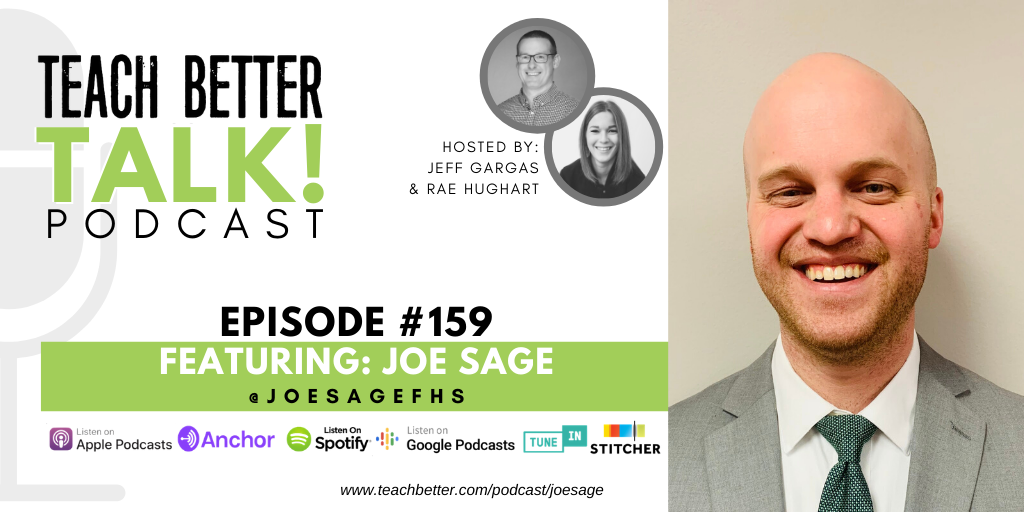 Teach Better Talk Podcast
,
@jeffgargas
,
@raehughart
,
@teachbetterteam
,
#edupodcast
,
#Podcast
,
#teachbetter
,
#teachbettertalk
,
jeff gargas
,
podcast
,
rae hughart
,
teach better
,
teach better talk
,
teach better team
---