Speaker, author, and consultant, Monica Burns, chats with us about empowering students as creators, giving kids opportunities to work on projects big and small, and the power of purposefully checking in with others every day.
'If they can tackle those small moments and empower student creators at the same time, I think the benefits for what that can look like can really be meaningful.' - @classtechtips from episode 106 of #TeachBetterTalk #Podcast
Click To Tweet
Episode Highlights
2:00 – Rae interrupts Jeff to talk about her classroom…because it's all about Rae.
3:04 – Rae loves Seesaw.
6:32 – Chatting about the 2020 IDEAcon presented by the Illinois Digital Educators Alliance (IDEA).
9:00 – Previewing the episode with Monica Burns.
13:48 – Monica introduces herself.
14:32 – Monica tells us a little about The Easy EdTech Podcast.
16:18 – Monica's failure: Not asking for help enough.
18:40 – Monica's success: Publishing her book "Tasks Before Apps" with ASCD
20:05 – What keeps Monica excited about education: Having the opportunity to work with students and other teachers.
21:40 – A recent blog post that has a really great tip in it: 5 Tips For Creating Infographics With Students.
24:17 – Monica's advice for pursuing better edtech use: Big and small creation moments.
25:35  – Monica shares a little about her books.
29:44 – 6 questions answered in 15 seconds or less.
33:10 – How to connect with Monica.
Monica's Recommendations
Links to Connect With Monica
Monica's Books:
MORE EPISODES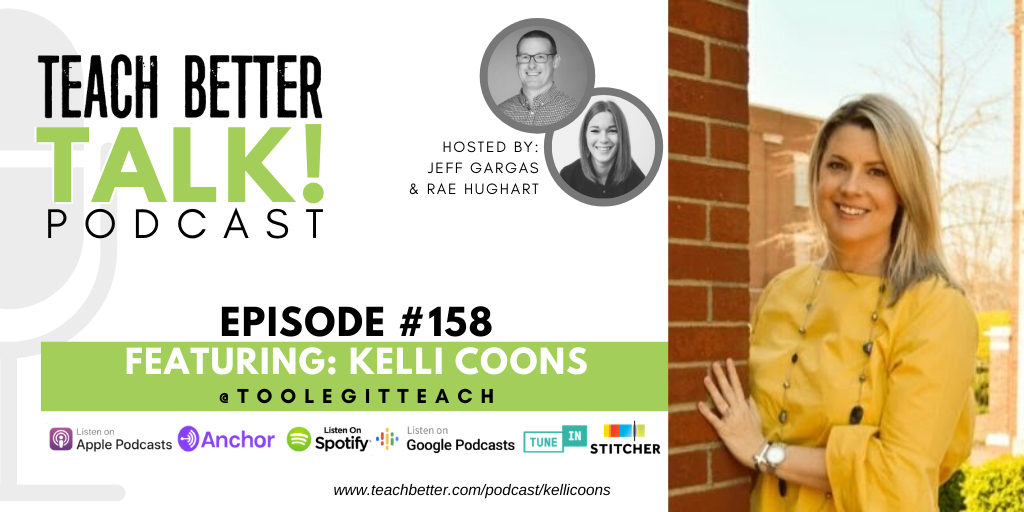 Teach Better Talk Podcast
,
@jeffgargas
,
@raehughart
,
@teachbetterteam
,
@TooLegitTeach
,
#edupodcast
,
#Podcast
,
#teachbetter
,
#teachbettertalk
,
jeff gargas
,
kelli coons
,
podcast
,
rae hughart
,
teach better
,
teach better talk
,
teach better team
---