The Tech Rabbi, Michael Cohen, chats with us about teaching students how to create, helping them to struggle, and guiding them to build out creative solutions.
Michael talks about instilling entrepreneurial thinking so that our students can be proficient in how to create things, why teachers need to be curious, and why you should focus on mastering the purpose rather than the tech tool.
Episode Highlights
0:45 – Shoutout to Jeff Kubiak (@jeffreykubiak) for providing Rae's descriptive words.
2:49 – Previewing the episode with Michael Cohen.
4:20 – Just Rae ranting about being purposeful in your classroom.
 9:22 – Michael introduces himself.
10:51 – Michael's failure: Creating his entrepreneurial space without enough guidance for his students.
16:43 – Michael shares a bit about his school's entrepreneurial studio.
22:48 – Helping students learn the skills they won't know they need until years after they leave our classrooms.
27:06  – Michael's advice for getting started preparing students for the future.
33:44 – 6 questions answered in 15 seconds or less.
38:34 – How to connect with Michael.
41:50 – Jeff has some nostalgia about MySpace.
Michael's Recommendations
EdTech Tool: My iPhone
Who to Follow: Trevor MacKenzie (@trev_mackenzie)
YouTube/Podcast/Website/Blog: John Spencer
Daily/Weekly/Monthly Routine: Daily – Take a moment to breathe. Weekly – Making lists that aren't on technology. Monthly – Reflecting. (and rock climbing!)
Best piece of advice you've ever received: Yiddish saying, "Tracht gut, vet zein gut"  ("Think good and it will be good.")
Links to Connect With Michael
MORE EPISODES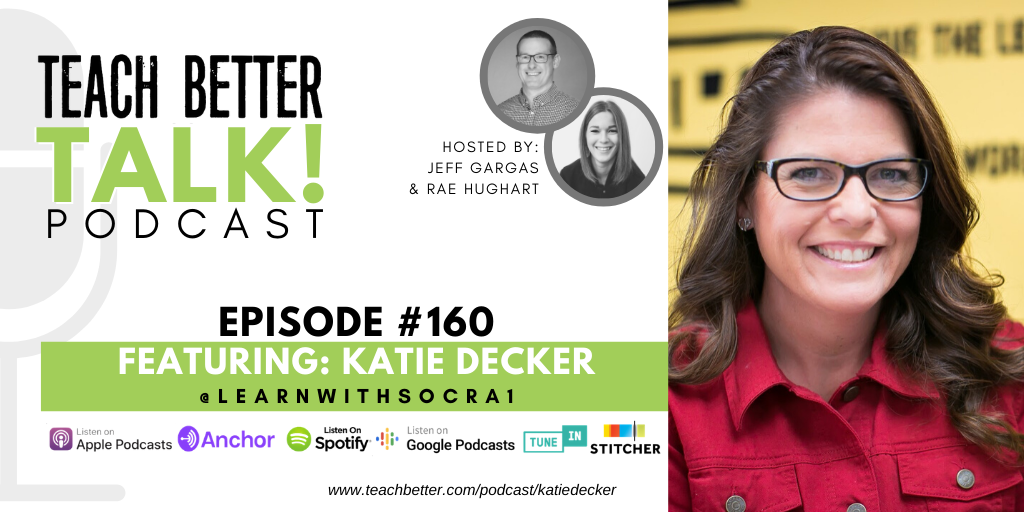 Teach Better Talk Podcast
,
@jeffgargas
,
@Learnwithsocra1
,
@raehughart
,
@teachbetterteam
,
#edupodcast
,
#Podcast
,
#teachbetter
,
#teachbettertalk
,
edtech
,
jeff gargas
,
Katie Decker
,
podcast
,
rae hughart
,
Socrates
,
teach better
,
teach better talk
,
teach better team
---