Jason Reagin chats with us about taking risks, working with drones, and his experience traveling the world and teaching in the U.S., Bermuda, China, and South Korea.
Jason shares a story of a personal failure that lead to a professional lesson, why he is focused on educating the whole student, and the importance of understanding tolerance.
Episode Highlights
2:32 – Chatting about classroom management and how changing your grading can help with changing the environment in your classroom. Focus more on feedback and how to support your students, not the letter grade. **Catch the coupon code for 50% off the Mastering Management Online Course.
5:01 – Preview of the episode.
 7:45 – Jason introduces himself.
9:18 – Jason shares his journey and the multiple countries he has taught in.
11:41 – Jason's failure.
13:32 – Jason's success.
15:03 – Jason chats about taking risk.
16:29 – What's got Jason excited about education right now.
21:48 – Jason's advice to new teachers.
23:27 – Jason shares how YOU could stay teaching overseas.
26:27 – 6 questions answered in 15 seconds or less.
28:25 – How to connect with Jason.
Jason's Recommendations
EdTech Tool: Synth
Who to Follow:

Craig Kemp – @mrkempnz

YouTube/Podcast/Website/Blog:

www.youtube.com/c/flippedclassroomtutorials

Daily/Weekly/Monthly Routine:

Sit down one-on-one with each of your students at least once per month to 'check-in' with them.  This personal interaction with students is what edu cation is all about and it might be only time that student has a positive conversation all month!

Best piece of advice you've ever received:

"If you love your job you never go to work!"
Links to Connect With Jason
MORE EPISODES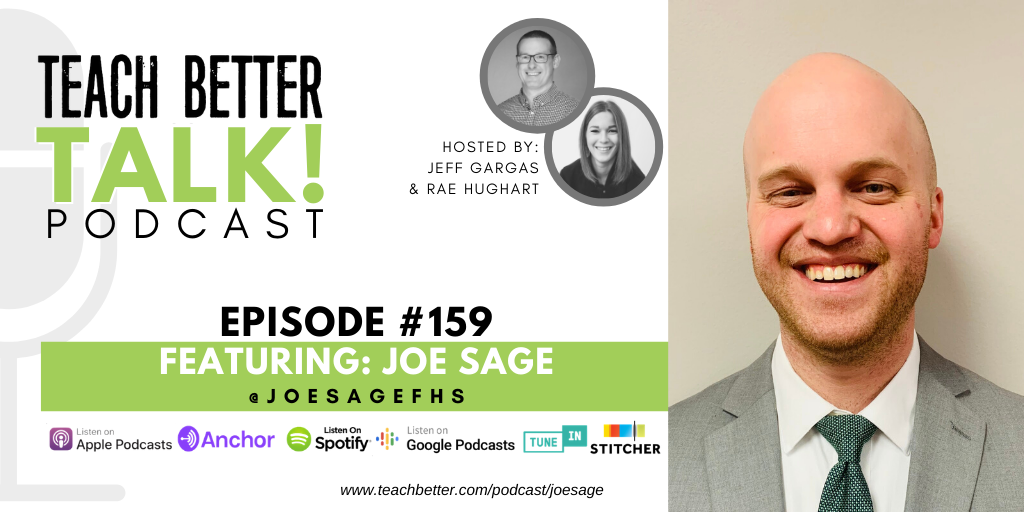 Teach Better Talk Podcast
,
@jeffgargas
,
@raehughart
,
@teachbetterteam
,
#edupodcast
,
#Podcast
,
#teachbetter
,
#teachbettertalk
,
jeff gargas
,
podcast
,
rae hughart
,
teach better
,
teach better talk
,
teach better team
---