Teach Better Team co-founder, and creator of The Grid Method, Chad Ostrowski, chats with us about the relentless pursuit of Better. Chad tells us the story of the worst year of his life and how it changed everything, explains why we thinks we have the best opportunity to create true change in education, and how you can be the best version of yourself.
Episode Highlights
3:13 – Chad explains what he does for a living.
5:30 – Chad's failure.
11:24 – Chad's success.
18:05 – What's got Chad excited about education right now.
21:28 – Chad's advice to new teachers.
24:06 – 6 Questions answered in 15 seconds or less.
28:39 – How to connect with Chad.
Chad's Recommendations
EdTech Tool: EdPuzzle or Actively Learn
Who to Follow: @teachbetterteam
YouTube/Podcast/Website/Blog: Teach Better Team (shameless self-promotion alert!)
Daily/Weekly/Monthly Routine: Taking care of yourself.
Best piece of advice you've ever received: "You can't control everything going on in education, but you can always control what happens in the four walls of your classroom." – Chad's mentor, Amanda Gillespie
Links to Connect With Chad
MORE EPISODES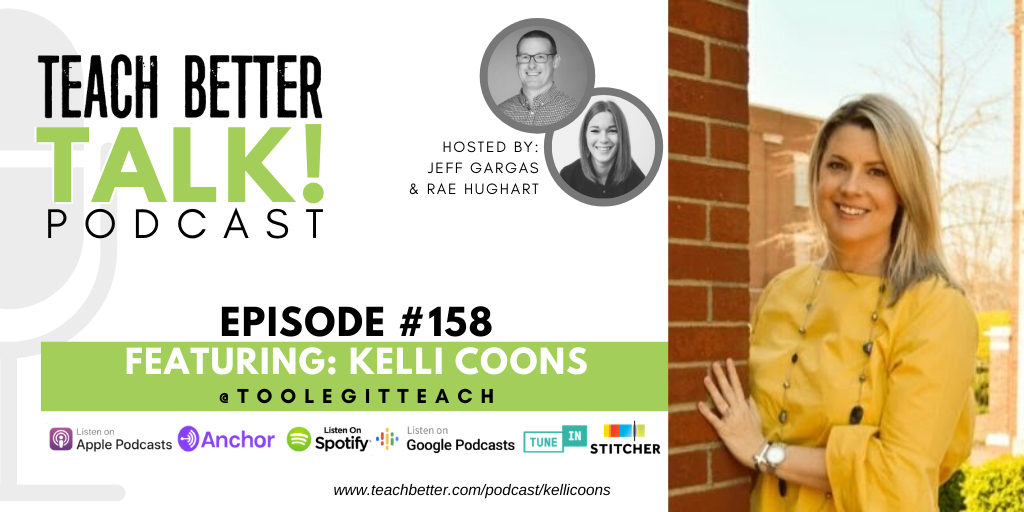 Teach Better Talk Podcast
,
@jeffgargas
,
@raehughart
,
@teachbetterteam
,
@TooLegitTeach
,
#edupodcast
,
#Podcast
,
#teachbetter
,
#teachbettertalk
,
jeff gargas
,
kelli coons
,
podcast
,
rae hughart
,
teach better
,
teach better talk
,
teach better team
---