TL;DR:
A reflection from Adobe Creative Educator Day.
Lessons on improving creativity for yourself AND your students.
At the end of February, I got the opportunity to attend the Adobe Creative Educator Day. I  thought I understood creativity before that day, but it turned out that I only understood a small aspect of it. This was an entire day dedicated to promoting creativity in our students as we built on our own current understanding of what creativity truly is. We addressed our misconceptions and built on them as Rebecca Hare engaged us on a process of what creativity can be and should be. 
The day began with a Rebecca's Hare's keynote that inspired all of us there: Practical Creativity: How to Recognize and Cultivate it in Your School. As she began, Rebecca led us through a variety of creative challenges. They were based on Torrance's Test for Creative Thinking to build our understanding of creativity. The test is based on five norm referenced measures. 
Test For Creative Thinking
First, she shared the measure of fluency. This measure evaluates the quantity of creative ideas we have. It isn't just about one idea, but coming up with several ideas to choose from. In fact, she shared that it can take up to nine ideas before we truly tap into our creativity. Quantity of ideas can indeed lead to quality of ideas.
Second, we covered the measure of originality. This measure describes the unusualness of our responses. Do we come up with expected ideas or do we see new and unexpected ways? 
Next came elaboration. This measure shares how you add your imagination and include details in your work.  Can you take something simple and turn it into something else with not only your imagination, but by adding details?
Fourth, we got to the abstractness of title measure. This measure is determined by thoughts that are deep and rich. These thoughts go beyond the obvious and have us look at things in different ways.
Finally, we ended with the resistance to premature closure measure. This measure asks if we feel drawn to finish things in the easiest way, or if we lean into that uncomfortable feeling and still persevere. 
Before completing these challenges, many of these measures would not have entered my mind as being measures of creativity.  What about you; do you think about all of these measures?
When I thought of creativity, was I including all of these? If not, why? Which of these measures was I strongest in and which can I aim to improve as I monitor my own creativity? Was I looking at all of these areas with my students? Where was I limiting creativity? 
If creative thinking was the biggest predictor of lifetime achievement as Rebecca shared, why wasn't I being inclusive of all measures?
If creative thinking is the biggest predictor of lifetime achievement, why aren't being inclusive of all measures?
Click To Tweet
Increasing Creativity
She also shared that there are many ways that we can increase creativity.  One of those ways is to develop a creative workflow. 
Define is the first step of this process. In this step, students determine their purpose and understand the opportunity that they have been presented with. 
Next create happens. Students brainstorm ideas. They explore these ideas, refine them and develop the best way to express their ideas. This is where students explore and find the best media to use for the intended purpose. 
Reflect follows. Now, students review their process and their product. They discover new insights as they do so.
Creative & Digital Literacies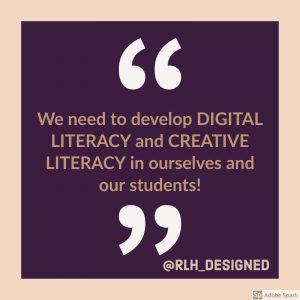 As Rebecca continued she shared this very profound statement, pictured to the right.  "We need to develop DIGITAL LITERACY and CREATIVE LITERACY in ourselves," it began. As educators, we often use terminology as if we all share the same common understanding of terms. If I have learned anything as I have explored the PLC culture, it is making sure we all have the common understanding of our targets.
Next, Rebecca defined digital literacy as, "The ability to find, use, evaluate and create with a variety of digital tools to express ideas responsibly and ethically."  I loved this definition. So much of what I do as a School Based Technology Specialist fits into this, not to mention how I use digital resources as I blog.
However, the idea of creative literacy was new to me. Rebecca defined this as "The ability to create with purpose, use methods, and processes to generate new ideas, create with a variety of media, and reflect and understand creative work."  This was a great place for me as an educator to start focusing on myself, as I began my new journey into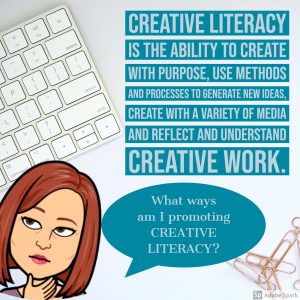 creativity.
Having identified creative literacy as the area I need to work on, I wondered if I could I use my work with my learners to CHALLENGE myself to incorporate more creative literacy.
Now I am embarking on a mission to not only create better, but help my students to develop their creativity of all types.
What about you? How creative are you? How can you create better?
At the end of the day as Rebecca shared in her keynote, the quantity of ideas leads to the quality of ideas. #BetterTogether will help all of us promote creativity and bring a more thorough understanding of this great predictor of lifelong achievement.
[scroll down to keep reading]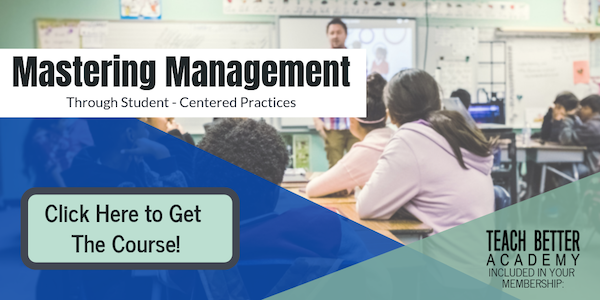 ---
ABOUT DEBBIE TANNENBAUM
Debbie Tannenbaum is an Elementary School Technology Specialist in Fairfax County, VA. An educator with over twenty years of experience, Mrs. Tannenbaum is completing her second year in this role, where she supports both staff and students to integrate technology tools into instruction through both co teaching sessions and weekly technology classes. Mrs. Tannenbaum is also an avid blogger and shares her thoughts and reflections on her website: Techy Notes. You can also find her on Twitter and Instagram at @TannenbaumTech.