In This Post:
Creating a rockin' classroom environment is about creating an environment students love walking into.
Using music to create an experience for students can be power.
Music calms us, creates focus, and inspires us.
Which teacher's class did you anticipate and love walking into everyday?
For me, it was my high school history teacher's class. He always had CNN on the TV until we walked in and changed it to MTV. It was in his class, I was introduced to the Tom Petty and the Heartbreakers song, Last Dance with Mary Jane. I've always wanted a classroom where students love walking into for fun and learning just like I walked into my history class. As a teacher, I'm reminded of two things my teacher did that made all the difference in creating a rockin' classroom environment.
My Teacher Set the Tone with Student Choice
On most days in Mr. P's class, we had a choice of the TV channel we watched before and after our lessons. It gave us ownership. I want students to take ownership, not only with the music, but with their learning.
I have a subwoofer under my desk…no kidding! It gets loud and my class sounds like a NYC nightclub some days. During most passing periods, music is playing and the bass is bouncing the sub around on the floor. Music speaks to the heart. Music motivates. Music tells a story.
Songs can bring vivid memories of people, places, and events from our own past and serve to document our thoughts, feelings, and emotions at a given place and time.
Click To Tweet
I prefer Classic Rock music, but students with or without my permission switch the music to something "more modern" according to them. Other students change the music to a variety of mixes people have created from Minecraft music or some other trendy thing. My only rule…it has to be "clean."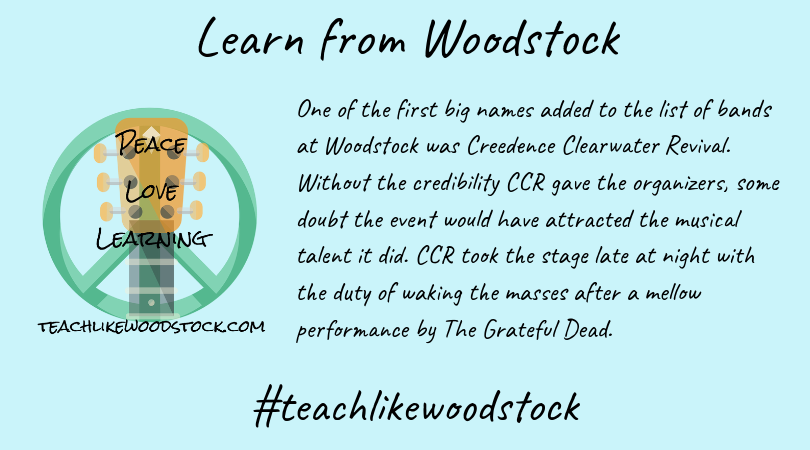 My Teacher Used Music to Set the Mood
Blasting music on MTV or playing the cassette tapes from the shoulder boom box, Mr. P or at least the students had the room rockin'.
Like CCR did at Woodstock after a mellowing performance of The Grateful Dead, we often have to energize students on a daily basis to be successful in our classrooms. I use music to wake students up after a long weekend. I use it to pull students into a lesson.
[scroll down to keep reading]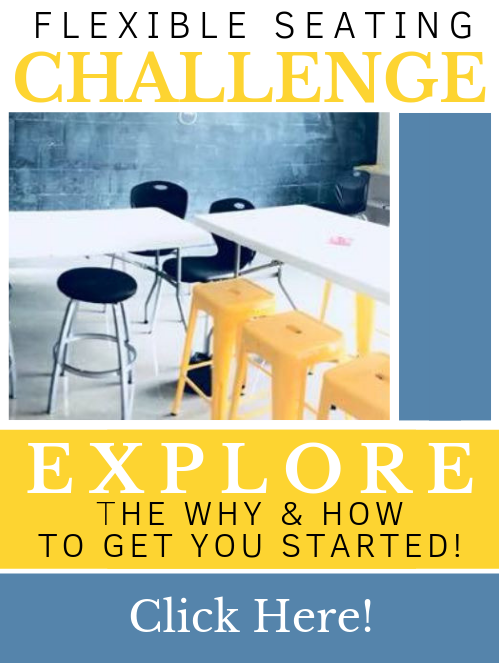 Music calms us, it creates focus, it inspires us, but sometimes can irritate us. Music can be the backdrop against which we live our lives. Songs can bring vivid memories of people, places, and events from our own past and serve to document our thoughts, feelings, and emotions at a given place and time.
Two Music Activities to try
Create Your Version of We Didn't Start the Fire
Tying activities to music immediately pulls students into a lesson. One of my favorite lessons focuses on the Billy Joel song, We Didn't Start the Fire. Download Student Activity Sheet Here. The music lyrics discuss significant events and people from the 1950's to when the song was released in 1989.
After listening to the song a couple of times, students are put into groups and create their own version of the song with their list of events from 1989 to the present. Some students sing their version, others may read it, and some choose to keep their version between their group and the teacher. Regardless, most students are engaged the entire time of the activity.
What is Your American Anthem? 
This school year I tried a new assignment after hearing the segment American Anthem on National Public Radio (NPR). See Assignment. Students were asked to choose a song they feel represents them or one they can relate to. Students then research the song, the lyrics, and if possible, the true meaning of the lyrics from the artist's perspective. It was also required they answer the following questions:
What does this song represent in your life?
Why can you relate to the song?
What is the style or mood of the song?
What did you learn about yourself from this song?
After answering the questions, students had the option to use an online voice recorder to record them talking about their American Anthem or use the app Flipgrid to record audio and video. Most students didn't want others to see their work so they chose to do the audio recording v.s. Flipgrid.  Listen to Student Examples
Whether you try these activities, or come up with your own, I encourage you to give students an environment that is rockin. I believe music is one of the best ways to do this. But whether you use music or not, focus on how you can create that environment that students get excited to enter every day.
---
About Jeremy Rinkel
Jeremy is a husband, father, high school English teacher and Yoga Teacher. He has earned a Masters in Educational Policy from the University of Illinois and a Masters in Teaching from Greenville University. His goal is to inspire students, teachers and anyone he comes into contact with to be a life long learner. Jeremy believes education is the key to solving our world's problems. In his free time, Jeremy enjoys traveling, writing, spending time in coffee shops, and spending time with his family watching old TV shows on Netflix. In the summer, he can be found at a Lake Sara in Central Illinois teaching Standup Paddleboard Yoga.