How would you describe a productive and effective Professional Learning Community (PLC)? In my experience in multiple schools and districts, this model has looked drastically different in each setting. This week's guest, Chad Dumas, shares a practical guide for leaders on how to collaborate and get sustained results for students.  
In this episode, we discuss:
The Steps Needed to Get the Correct Leadership Experience for Aspiring Leaders

Tips to Create Effective Meetings

How to Increase Your Professional Development

And Chad's new book,

Let's Put the C in PLC
I'm listening to Chad Dumas on the #AspireLead podcast!
Click To Tweet
About Chad Dumas
:
Chad Dumas is a Solution Tree associate and international educational consultant, presenter, and award-winning researcher whose primary focus is collaborating to develop capacity for continuous improvement. With over two decades of successful leadership experience, Chad has led significant improvements for both students and staff. He shares his research and knowledge in his new books, Let's Put the C in PLC and An Action Guide to Put the C in PLC, and consulting that includes research, stories, hands-on tools, useful knowledge, and practical skills. For more information, or to reach Chad, visit www.NextLearningSolutions.com
Follow Chad Dumas
Are you a superfan of the Aspire podcast? Well, now you can show off your support with the new Aspire swag, featuring tee shirts, hoodies and a variety of drinkware. You can find all your Aspire Swag at www.teachbetter.com/swag
Use Discount Code: ASPIRE for 25% OFF
Tee-Shirts, Hoodies, and Drinkware: ASPIRE: The Leadership Development Podcast
This post contains affiliate links.
When you make a purchase through these links, The Aspire Podcast gets a small percentage of the sale at no extra cost to you.
Need a Presenter for a conference or school PD?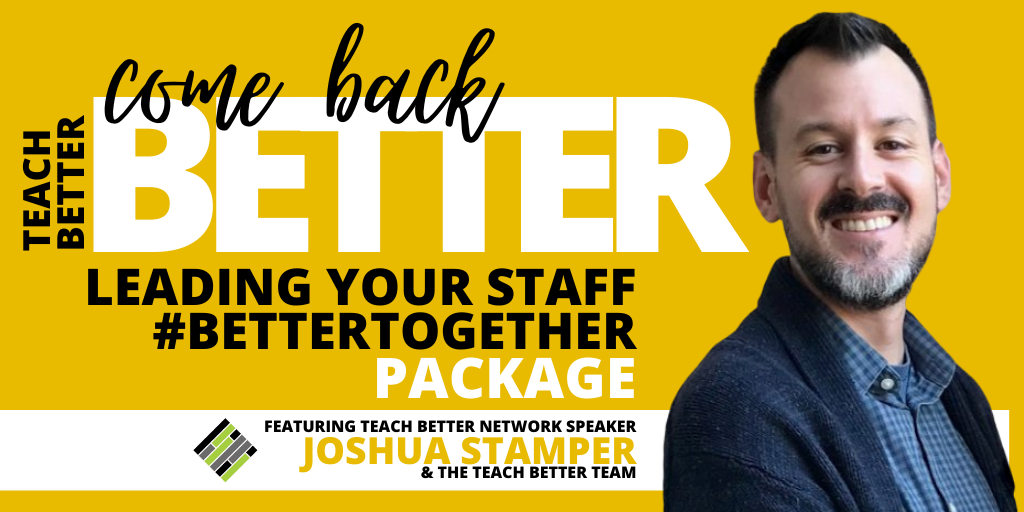 Contact Joshua Stamper  for presentations on Restorative Practices, Leadership Development, and Innovative campus systems.
Watch my session on Trauma Informed, restorative and social emotional practices at www.teachsummit.com/stamper
Follow the Host, Joshua Stamper:
Review the Podcast
I want to give a huge shout out to those who have taken the time to provide a review on Apple, Spotify or any other podcast platform. It truly means the world to me that you would take the 30- 90 seconds to share how the podcast has positively impacted you or why other educators should check out the show. I really appreciate the reviews and to show some love to those listeners that have taken the extra time. This week's 5 star review comes from handle "Always Learning Always Evolving" and they shared:
"This is an exceptional podcast! Highly engaging with relevant content! Great guests and, as a host, Joshua asks the right questions and gives guests the space to share their thinking. Well done!"
Thank you for this wonderful feedback! For any other listeners out there, if you leave us a review, YOU may get a shout out in the next Aspire episode!
MORE EPISODES